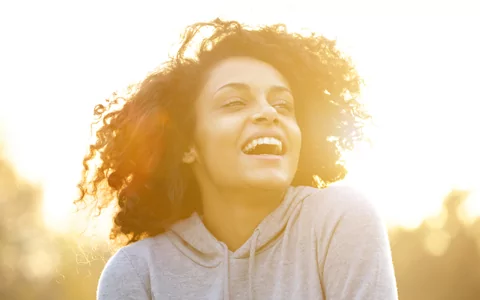 Dentistry is about more than disease prevention and cleanliness. It's also about beauty and confidence! It's proven that having bright, straight teeth contributes to one's self esteem.
We at Healthy Roots Dentistry want all our patients to not only have healthy teeth, but beautiful sparkling teeth they can proudly show off to the world! For this reason, we offer a variety of tried-and-true cosmetic dentistry procedures to our patients.
Dental Crowns
A dental crown is an artificial covering placed over the top of a compromised tooth, or fixed directly to an implant . These crowns replace tooth structure that has been compromised by chips, cracks, or infections. A crown is custom-fitted to your mouth and designed to match the rest of your teeth in color, shape, strength, and luminescence, with subtle improvement.
Traditional all-porcelain metal free crowns can be manufactured in a couple weeks, with temporary crowns available in the meantime. If you've lost a tooth to trauma or infection, dental implant crowns or possible bridge may be the solution. Give us a call to learn more.
Veneers
A veneer is a wafer-thin shell made to fit the outer edge of a discolored or damaged tooth. Veneers are an alternative to full coverage dental crowns, and can be temporary or permanent depending on your needs and timeline.
Veneers are usually made of sturdy porcelain, and hold up well to regular chewing and stress. If you have discolored or damaged teeth, a veneer may be the right option for you.
Teeth Whitening
Lots of people with discolored or yellowed teeth have low self-esteem and little confidence in your smile. With our convenient in-office or take-home teeth whitening procedures, your smile can be dramatically transformed! Call us today to be fitted for your very own Opalescence Boost bleaching trays, or to schedule a bleaching appointment in our office. It's time to show off those pearly whites!